Join me on a delightful adventure to the captivating land of France, where we shall venture towards the charming region of Perigord and uncover the wonders of Château des Milandes.
This enchanting castle, entwined with the extraordinary life of Josephine Baker, a remarkable artist from the last century, holds a special place in the hearts of the French people. Known for her kindness, generosity, and bravery, Josephine Baker left an unforgettable mark in the memories of the nation. Nestled amidst the serene French countryside, this fairytale-like castle served as Josephine Baker's cherished home, where she spent her happiest years and realized her greatest dream: establishing the Rainbow Tribe. Exploring the rooms of Château des Milandes is like taking a journey through the significant moments in the life of this incredible woman.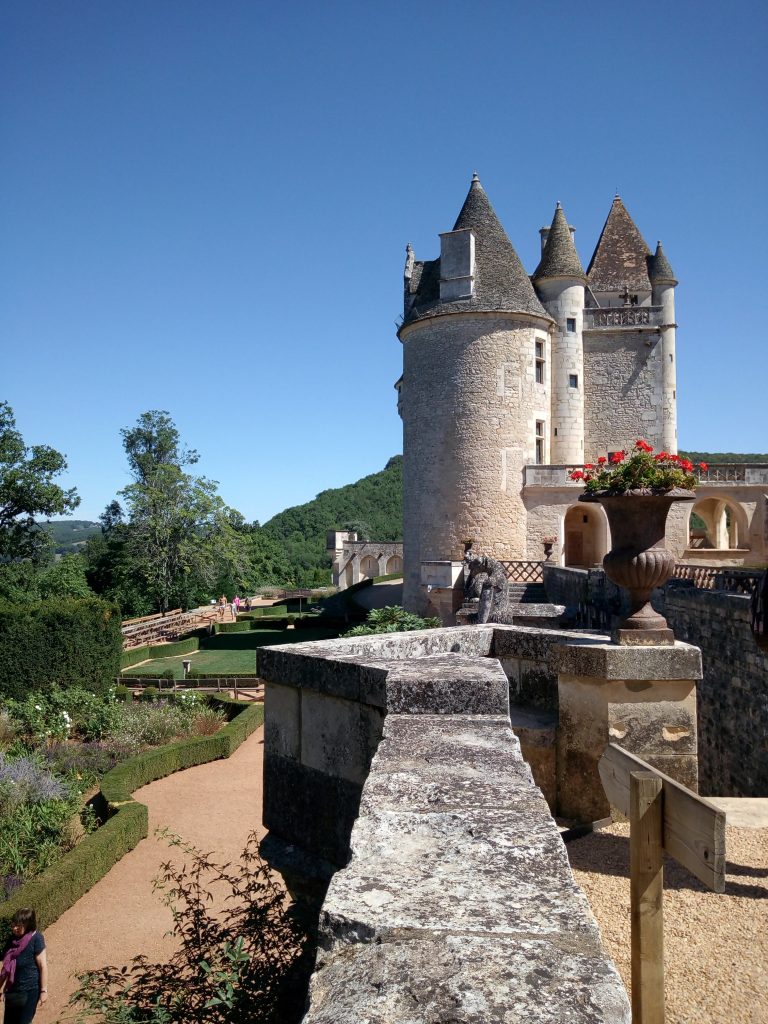 The Château des Milandes and Josephine Baker
Just a short distance away from the beautiful town of Sarlat in Perigord Noir, you'll find the splendid Château des Milandes majestically perched on a hill, overlooking the peaceful Dordogne River. It is surrounded by a lovely French-style garden, adding to its charm.
This structure was built in 1439 at the request of the Lords of Caumont and still showcases the architectural elements from that time, such as pretty windows with mullions, winding staircases, and towers. However, after the French Revolution, it was abandoned and forgotten, like a sleeping princess waiting for her prince. Luckily, a wealthy industrialist named Charles-Auguste Delbret-Claverie arrived on the scene and decided to play the role of Prince Charming. He embarked on an extensive restoration project at the beginning of the 20th century, which lasted for many years. The result was a splendid transformation, with the addition of romantic balconies, decorative figures, and most importantly, a stunning French-style garden next to the castle, along with a charming farmhouse.
These impressive renovations breathed new life into the building, restoring all the allure that old castles have always had over people's hearts. Even Josephine Baker couldn't resist its magic, and she made Château des Milandes her beloved home.
Who was Josephine Baker?
In recent months, Josephine Baker has captured the spotlight once again, thanks to President Macron's decision to honor her by including her in the prestigious Paris Pantheon—a place dedicated to commemorating those who have made their mark on French history. Josephine Baker will be the first black woman to receive this recognition, joining the esteemed company of iconic figures like Marie Curie, Voltaire, and Rousseau.
But who exactly was Josephine Baker, and what connects her to the magnificent Château des Milandes in the peaceful and green Périgord region? Let's delve into the incredible achievements of this exceptional artist, and discover the profound ties that bind her to this splendid castle.
A Tale of a Missouri Girl in Paris
Born into a humble family in Saint-Louis, Missouri, Josephine Baker's journey began amidst the backdrop of a racially divided America in 1906. In those times, racial segregation was deeply ingrained in the southern regions of the United States. At a tender age of merely fourteen, she embarked on a path that would shape her destiny, starting as a dancer in the theaters of Saint-Louis and later in New York City.
It was her extraordinary talent that caught the eye of Caroline Dudley, the wife of an American embassy official in Paris. Recognizing Josephine's remarkable potential, Caroline extended an invitation for her to accompany her to the Ville Lumière, where she could participate in the renowned musical spectacle, Revue Nègre. It was under the dazzling Parisian spotlight that the young Josephine Baker, clad in nothing more than a necklace and a legendary banana skirt, captivated audiences with her bewitching blend of sensuality, exuberance, and lightheartedness, securing her place as an international sensation.
Château des Milandes and Josephine Baker
In 1937, Josephine Baker, already an acclaimed international star, had the opportunity to lay eyes upon the magnificent Château des Milandes during a visit to the Périgord region. In an instant, she fell head over heels for this enchanting castle nestled in the heart of the French countryside, embraced by a vast parkland and caressed by the gentle waters of the Dordogne River. It was a place that seemed tailor-made for her, an ideal sanctuary to call home. Without hesitation, she made it happen. After a few years of renting, Josephine Baker and Jo Bouillon took ownership of the château in 1947, sealing their love by exchanging vows in the very chapel of this remarkable estate.
Josephine Baker's Unyielding Service to France
While the artist savored a carefree existence on the château grounds between her dazzling tours, the outbreak of the Second World War cast a shadow over her idyllic life. However, it was during this tumultuous period that Josephine Baker revealed her immense courage and unwavering love for France, a country she had embraced as her own since becoming a citizen in 1937.
Displaying remarkable bravery, she enlisted in the secret service and emerged as a beacon of resistance, employing her status as an international star to traverse nations and gather crucial intelligence on the enemy. Her contributions to the nation's counter-espionage efforts earned her the prestigious Legion of Honour medal in 1961.
Château des Milandes, Josephine Baker's Castle and the Rainbow Tribe
Following the conclusion of the war, Josephine Baker remained a staunch advocate for the civil rights of black individuals. In the United States, she funded and wholeheartedly supported the National Association for the Advancement of Coloured People, an organization dedicated to championing equality and justice. Fuelled by an unwavering passion and her deep longing to embrace motherhood, she embarked on a remarkable endeavour within the walls of Château des Milandes: the creation of "Le Village du Monde," a haven for universal brotherhood. This visionary concept aimed to provide a nurturing environment for her beloved Rainbow Tribe, a group comprised of twelve children from across the globe whom this extraordinary woman had lovingly adopted during her extensive travels.
The Rise and Fall of Josephine Baker's Dream
Josephine Baker's boundless generosity and heart of gold are undisputed. However, alongside her remarkable benevolence, there existed a certain innocence and a trusting nature that, when combined with her inability to effectively manage the grand ambitions of Château des Milandes, ultimately led to her downfall. Following her separation from her husband in 1960, her financial resources gradually diminished, resulting in her unfortunate ruin. In 1968, the château was sold at an auction, and Josephine Baker found herself unceremoniously evicted from the very place she once called home.
Inside the walls of Château des Milandes, a collection of poignant photographs depict a tired and weary 60-year-old Josephine Baker, stubbornly refusing to leave the doorstep where she spent the night, wrapped in nothing but a blanket. These images evoke a profound sense of empathy and compassion.
Thankfully, Princess Grace of Monaco extended a helping hand, providing her with assistance and support. With Princess Grace's aid, Josephine Baker was able to secure a flat on the French Riviera. However, her final performance took place on April 9, 1975, in Paris. Tragically, just three days later, she fell victim to a stroke, bringing an end to a truly extraordinary life.
The Castle in the Present
Since 2001, the Château des Milandes has been owned by Henri and Claude de Labarre, and their daughter Angélique de Saint-Exupéry took over in 2006. Today, the castle stands as a splendid testament to its history and offers visitors a range of enjoyable experiences.
During the summer season, you have the chance to witness an intriguing demonstration of falconry, an ancient and noble art. Prepare to be amazed as a variety of magnificent birds, including hawks, owls, and falcons, gracefully fly through the air, sometimes soaring just above the heads of the audience. It's sure to give you goosebumps and leave you in awe.
After your visit, I recommend taking a stroll in the lovely park and perhaps stopping by the brasserie to try some delicious local dishes. If you're interested in exploring the surrounding area, be sure to check out the attractions in Périgord and Quercy.
For more details about Josephine Baker's castle opening hours and other information, you can visit the official website: Milandes. Don't forget to also check out the Meraviglieuropa travel blog for additional insights and ideas.
Facebook: Meraviglieuropa  
Instagram: Veronica.Meraviglieuropa
Pinterest: Meraviglieuropa